Then check out the ART GALLERY there! They've got my "Mountain Art" paintings up through October!
Margaret (Peggy) Horne is my NC rep, here's her info:
She says she's happy to be representing Kim Rody Kopp mountain Art work! (Thanks Peg!)
Here's the OFFICIAL press release with all the "skinny":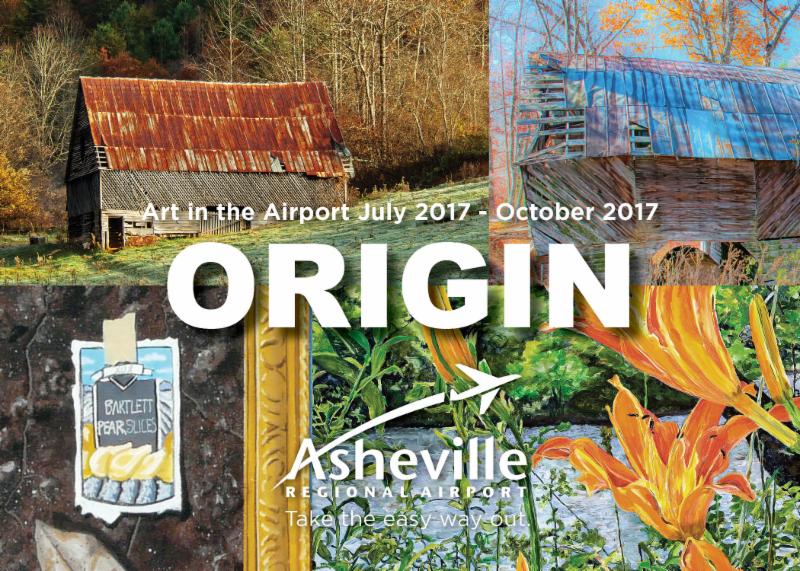 (Asheville, N.C.) The Art Gallery at Asheville Regional Airport (AVL) unveiled a new exhibit, Origin, on display through October 29, 2017.  The exhibit features artwork from four artists whose work reflects the western North Carolina region.
Acrylic paintings by Kim Rody Kopp welcome summer to the mountains with her use of color in vibrant statement pieces, capturing views from the area. The archival photographic prints by Bonnie Cooper and Dan McGowan strategically document a piece of the heritage of WNC. Paul Karnowski's canvases leave the viewer considering the dynamics between where things begin and end.
Whether Asheville is one's origin or destination, the exhibit at the airport gallery delivers a bright and thought provoking showcase. Origin invites travelers to take a glimpse of the area through a new perspective.
"The art gallery is truly a way for both the passengers and public alike to experience a taste of our region," said Alexandra Bradley, Marketing and Public Relations Specialist at AVL and curator of the gallery. 
Artwork can be purchased from the gallery by emailing art@flyavl.com. Artists who reside in any of the eleven counties within AVL's primary service market may apply for acceptance into upcoming exhibits. Details about the program, including application instructions, can be found on the airport's website at flyavl.com.
# # # # #